September 2023
50 Years and Counting!
50 Years and Counting!


My time home in August has allowed me to mount a project I've been trying to get to all year. 2023 marks my 50th Anniversary as a performing songwriter and I've created a section on my YouTube channel to celebrate called 50 Years and Counting. 1973 was a watershed year in my life; I was first paid to perform in 1973, my first album was released by Roulette Records in 1973, and I attended the National Theater Institute at the Eugene O'Neil Theater Center in 1973. These events shaped who I am today. On my YouTube channel   I am posting archival footage and tracks from the early days including that first album Fur Coats and Blue Jeans which I always thought should have been subtitled Deidre McCalla and 101 Strings! As I revisit the songs and interviews in the old footage I especially take note of how I have changed and in some ways how I have not changed. The authenticity is consistent. I will be adding to the offerings in the coming months and I invite you to visit and subscribe to my Deidre McCalla YouTube Channel to be lightly amused by where I've been.
One more thing about the significance of 1973 in my life: it was the year I came out. My coming out story At Nineteen is chronicled in the 1980 Persephone Press anthology The Coming Out Stories which was edited by Julia Penelope (Stanley) and Susan Wolfe. At Nineteen was excerpted from the anthology and also published in the feminist quarterly magazine Chrysalis which is the version I have posted on this site.  I have been told by more than a few people that  At Nineteen was required reading in some college courses on the LGBTQ community.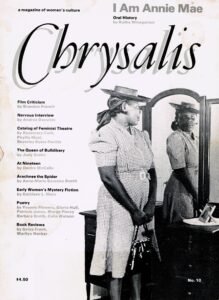 2023 National Women's Music Festival Jane Schliessman Award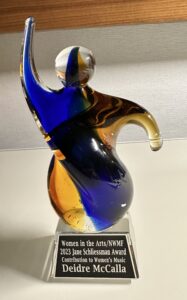 This past July the 2023 National Women's Music Festival presented me with the Jane Schliessman Award for Outstanding Contributions to Women's Music. I was very moved to receive this honor and the statuette sits proudly on my living room mantle. This is the write up in the program book:
In 1975 Deidre McCalla walked off the graduation dais at Vassar College directly onto the mainstage of the 2nd National Women's Music Festival in Champaign-Urbana, IL. Since that time Deidre has maintained a consistent presence in what came to be known as Women's Music charming audiences from Maui to Maine with her engaging stage persona and songwriting chops that reveal an unyieldingly honest perspective expressed with a lyric touch that relentlessly celebrates the power and diversity of the human spirit. Deidre McCalla worked with the ground-breaking lesbian owned recording company Olivia Records for 11 years. Her first Olivia album "Don't Doubt" It is included in the LGBT Collection at the Smithsonian Institution's Museum of American History and listed by Ms Magazine as one of 25 Classic Women's Music Albums. "With A Little Luck," her second Olivia album, earned a San Francisco Cable Car Award. Her current album, "Endless Grace", has been embraced by the greater folk community as one of the 10 Best Folk Albums of 2022.
Thank you, Women In The Arts, for this marvelous recognition.
JOIN DEIDRE'S EMAIL LIST!